C&C的 點心 事典之Calzone 烤乳酪餡餅(口袋披薩)
2019/04/16 03:36:13瀏覽1184|回應0|推薦46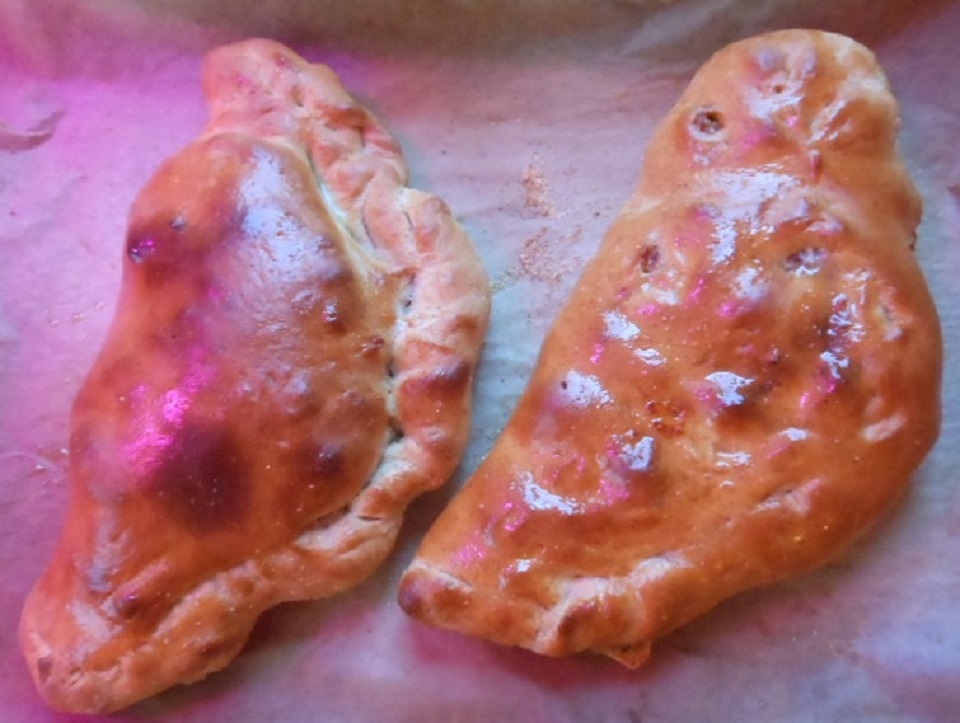 Calzone
A calzone is a pizza with the dough folded in
half over the filling—a pizza turnover.
What you fill it with is up to you and what you
have on hand to use or use up.
The ones I made this time contained cheese,
sausage, mushrooms, onion, & red pepper.
I divided the dough recipe in two and made
two slightly different ones.
One was spicier than the other because
I used some Buffalo cheddar cheese that
had hot sauce mixed into it.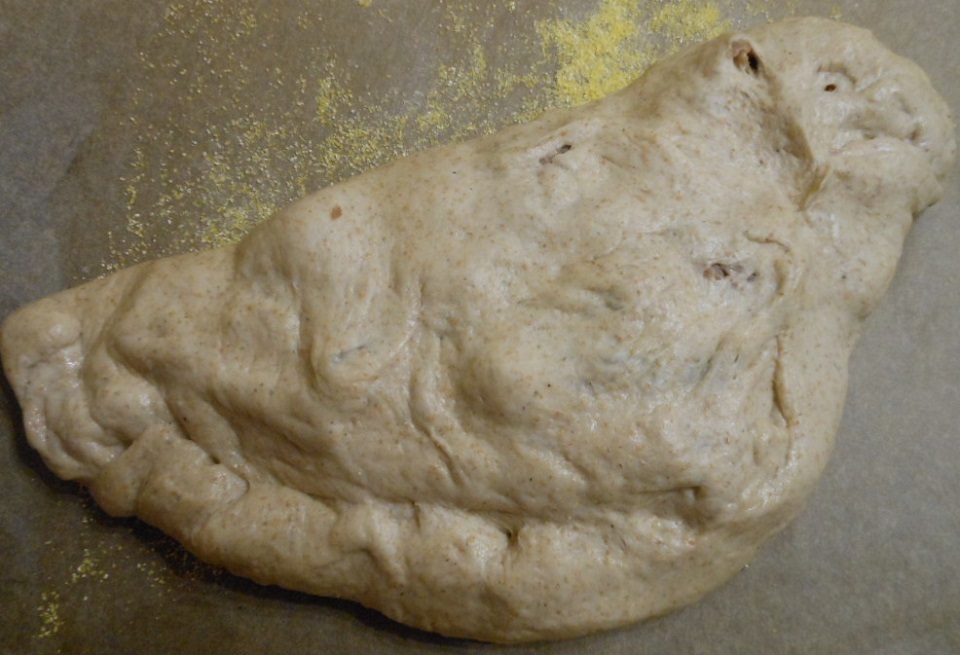 The part that takes the most time is the
pizza dough which I usually make from scratch
using the following recipe:
Pizza Dough
Make a 'sponge' by mixing together
¼ cup lukewarm water
2 teaspoons active dry yeast
¼ cup rye flour
Let it rise about 20 minutes and then add
½ cup lukewarm water
1 tablespoon milk
2 tablespoons olive oil
½ teaspoon salt
3¾ cups unbleached flour (I used ½ cup of whole
wheat flour instead of all unbleached)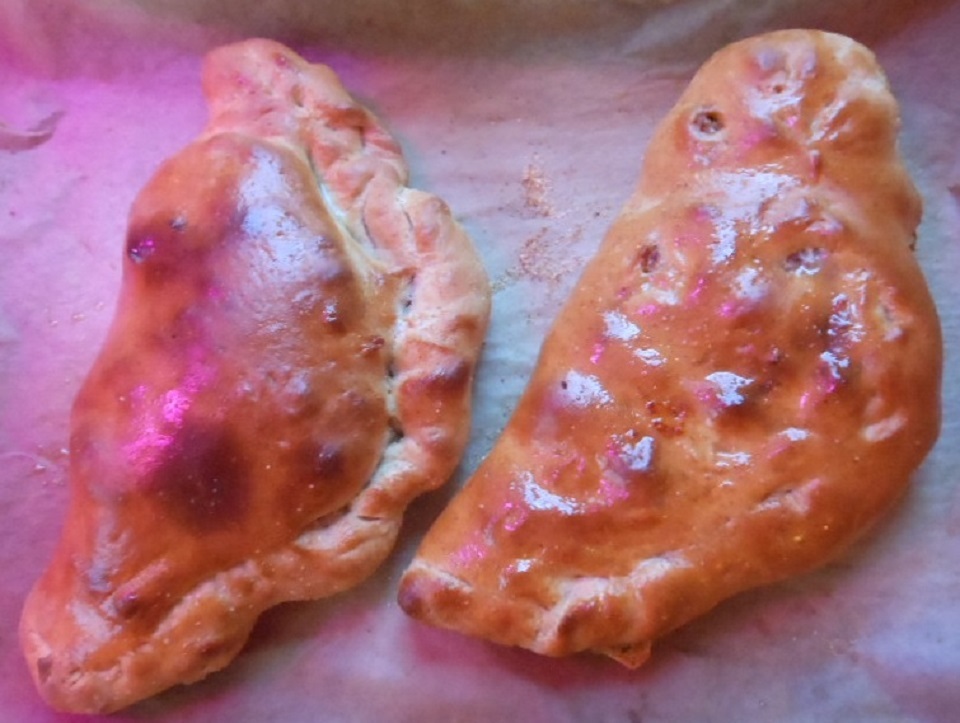 Mix the dough in a bowl and then knead on a
floured board. It will be soft and a bit sticky at
first so more flour will likely be necessary as you
knead, but err on the side of not adding too much.
If the dough is soft and a little moist the crust
will be lighter and crispier. Knead it for 10 to 15
minutes, (longer than you think), to make it strong
and elastic. Put the kneaded dough in a bowl rubbed
with olive oil and turn it over to coat the surface of
the dough to keep it from drying out as it rises.
Cover the bowl and let the dough rise in a warm
place until it doubles in size ~ about 2 hours.
Then, punch it down and let it rise another
40 minutes after which you shape and bake it.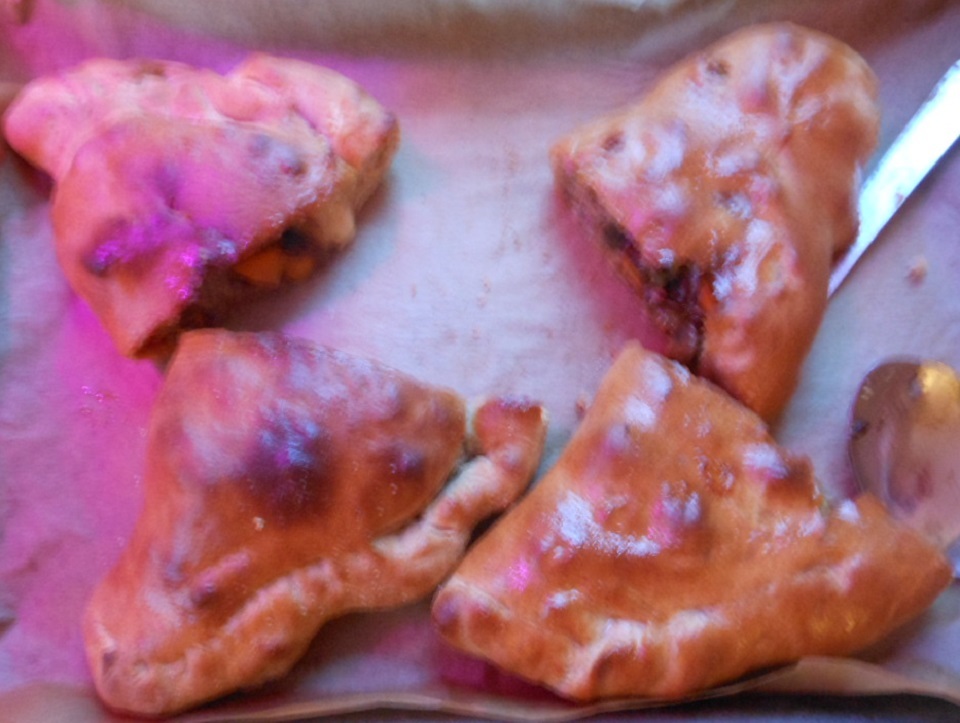 Have your filling ready when the dough has risen.
Roll the dough into one large circle or 2 or 3smaller
  ones. Put the filling on one half of the dough,
leaving about an inch of space around the edge
to pinch the dough together.
Fold the edges up onto itself to make a running curl.
Bake on a pizza stone, pan, or baking sheet in a hot
(450 degree) preheated oven for 15 to 18 minutes,
until the crust is brown and crisp.
Remove it from the oven and brush the top with
olive oil. Serve whole and cut with a serrated
knife at the table.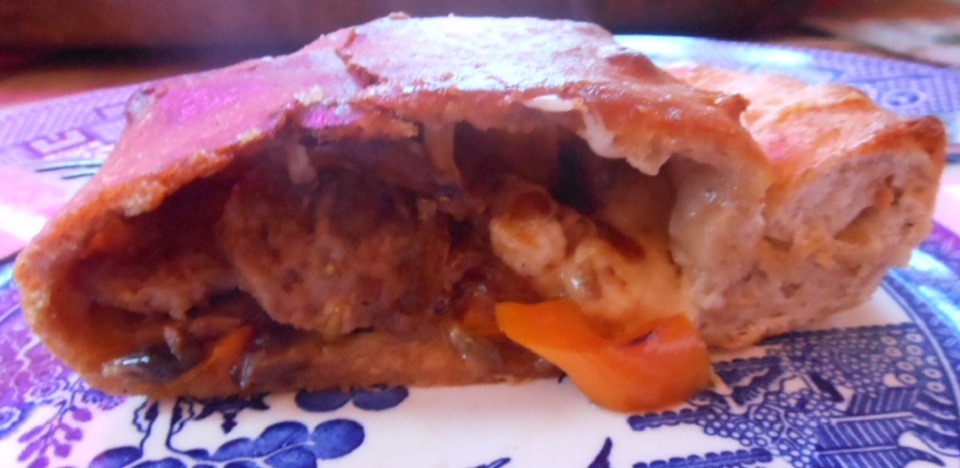 Calzone(美國:/kælzoʊn(eɪ), - ni /,UK:/kæltsoʊni,-neɪ/,
意大利語:[kaltsoːne];是意大利烤製的折疊披薩起源於18世紀那不勒斯,
翻譯為"褲腿"或"褲子",calzone的最初目的是作為"走走披薩"。
現代calzones在1996年出現在熱門電視劇"Seinfeld"中,並且最近
在2014年的熱門劇集"Parks and Recreation"中出現後,廣受歡迎。
典型的餡餅是由鹽漬麵包麵團製成,在烤箱中烘烤,
塞滿薩拉米香腸,火腿或蔬菜,馬蘇里拉奶酪,意大利乳清乾酪和
巴馬干酪或佩克立諾奶酪,以及雞蛋。calzone在不同區域
披薩配料成分也不同。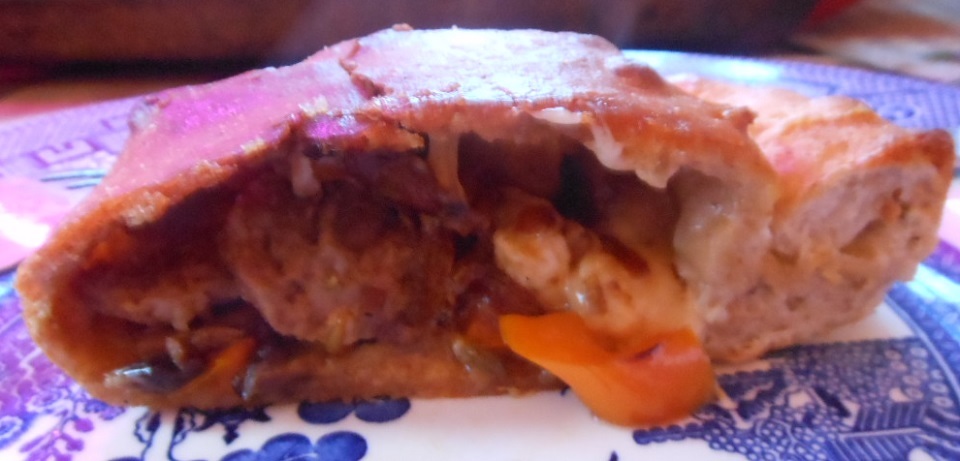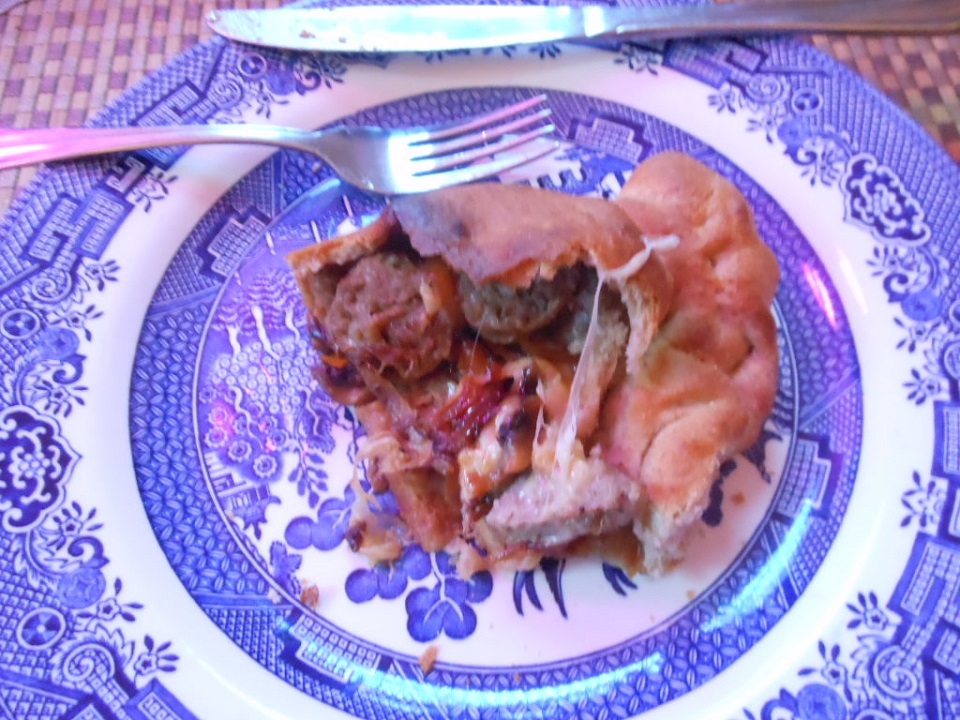 ( 休閒生活|美食 )