Antarctic Península Exploration
2012/11/26 23:58:02瀏覽966|回應2|推薦39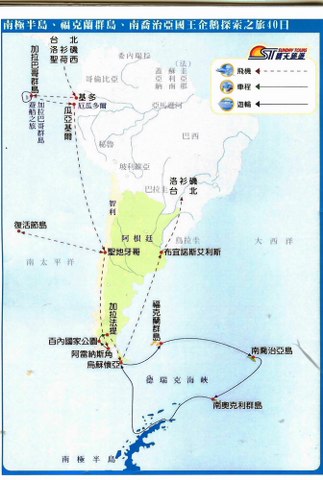 Tonight(27 Nov 2012) I'll going to Antarctic Península, this time we have 40 days vacation, we'll take Delta Air Line's flight from Taipei to Los Angeles. We will be arrive L.A at 20:30 local time, Then tranfer from L.A to San Jose (the capital city of Costa Rica) at midnight. Finally transit from San Jose to Quito , Ecuador.
We have 8 days vacation at Galapagos Islands, on 7 Dec we will fly to Santiago Chile, then tranfer to Easter Island, staying 3 days In Easter Island then back to Chile. and go down to Punta arenas and Torres Del Paine N.P.
On 16 Dec at Ushuaia we will to go aboard MS Fram ship, from 21 Dec 2012 to 2 Jan 2013 we have 13 days vacation cruising through Drake strait , to visit Falkland Island, South Georgia and Antarctica.
Our vacation will finish on 3 Jan 2013, on 5 Jan Next year we will go back Taiwan. So let me say good bye to everybody, see you next year, and wish you all Merry Christmas & Happy New Year
( 休閒生活|旅人手札 )