關鍵的復活紀事[特錄]
2009/03/05 08:19:09瀏覽711|回應4|推薦32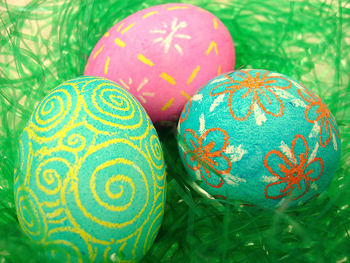 .
關鍵的復活紀事 2009.3.5.(農曆二月九日‧驚蟄)[特錄]
.
春日萬物復蘇的時候,杏花盛開,清明祭祖,也是野百合綻放,復活節的月份。這,都在天地生機盎然,欣欣向榮的春麗日子裡,是多麼巧合!彷彿有什麼美意嵌於其中哩。
"主復活"是基督信仰重心,這麼重大的事,經文裡,任何門徒口述或記載理應完全一致。但是細讀四福音實有出入,一度曾很感困惑:
至少,(1) 婦女們有沒有害怕,敢不敢告訴門徒應該很明確。
(2) 彼得和約翰都進墓親眼視察,應該每本福音書均提及,且內容相同,因為是最大和最確鑿的見證。
後來,一位弟兄分析給我的復活紀事。
" There were 2 separate groups of women went there. Perhaps one group said and one group didn't. Gospel of Mark was written by an author on year 70 CE and he was not an eyewitness. The differences in various gospels is a good indication of the truth. As a counter-example. During China's cultural revolution, many times all the newspapers told same lies. It is then easy to tell those are lies as they are identical.
Here is an outline of a possible harmony of the Evangelists' account concerning the principal events of Easter Sunday:
The harmony of the other apparitions of Christ after His Resurrection presents no special difficulties.
Briefly, therefore, the fact of Christ's Resurrection is attested by more than 500 eyewitnesses, whose experience, simplicity, and uprightness of life rendered them incapable of inventing such a fable, who lived at a time when any attempt to deceive could have been easily discovered, who had nothing in this life to gain, but everything to lose by their testimony, whose moral courage exhibited in theirapostolic life can be explained only by their intimate conviction of the objective truth of their message. Again the fact of Christ's Resurrection is attested by the eloquent silence of the Synagogue which had done everything to prevent deception, which could have easily discovered deception, if there had been any, which opposed only sleeping witnesses to the testimony of the Apostles, which did not punish the alleged carelessness of the official guard, and which could not answer the testimony of the Apostles except by threatening them "that they speak no more in this name to any man" (Acts 4:17).
Peace, Hope and Joy! "
但是,曾仍有的疑問乃是:
1.馬可雖不是目擊者,但他是彼得貼身隨從,資料必自彼得,記述簡陋是奇的。
2.馬可明明一開首就提抹大拉馬利亞,怎又列入害怕婦女之內,叙述如此含糊?
然而,後來卻想到:四福音內容在耶穌升天後開始悄悄口傳,因躲避羅馬追捕,直至成書也是悄裡進行吧。最早,馬可福音的復活紀事最簡,是耳傳訊息故,或也需避藏什麼話語,便不及細節。後來門徒馬太補詳了,醫生路加有考證下筆,而親密門徒約翰最細緻,時序最清楚,也見愛之濃郁。
而,我總說:"經文多屬直述體,不修飾,保留原作某些愚昧差誤,同時攤開人性美醜全面,絲亳沒有掩飾。"正是聖經書寫特色。
這裡有一篇Did Jesus rise from the dead? 歷史事證的、心理角度的,很有力和詳盡的分析。
http://y-jesus.com/body_count1.php
而歷史耶穌的實在性,可看這些求證:http://www.oc.org/web/modules/smartsection/item.php?itemid=3578 歷史上的耶穌 (上)
http://www.oc.org/web/modules/smartsection/item.php?itemid=3629 " " " (下)
(網圖共賞:復活節彩蛋、基督復活)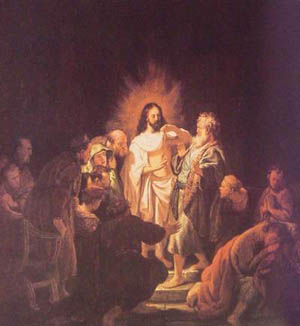 ( 心情隨筆|心情日記 )