文章數:369
心情隨筆|心情日記 2019/07/14 01:30:46
Home grown
China's Silicon Valley is transforming China, but not yet the world
A huge portion of China's brain power is concentrated in Zhongguancun
Print edition | China
Jul 11th 2019| BEIJING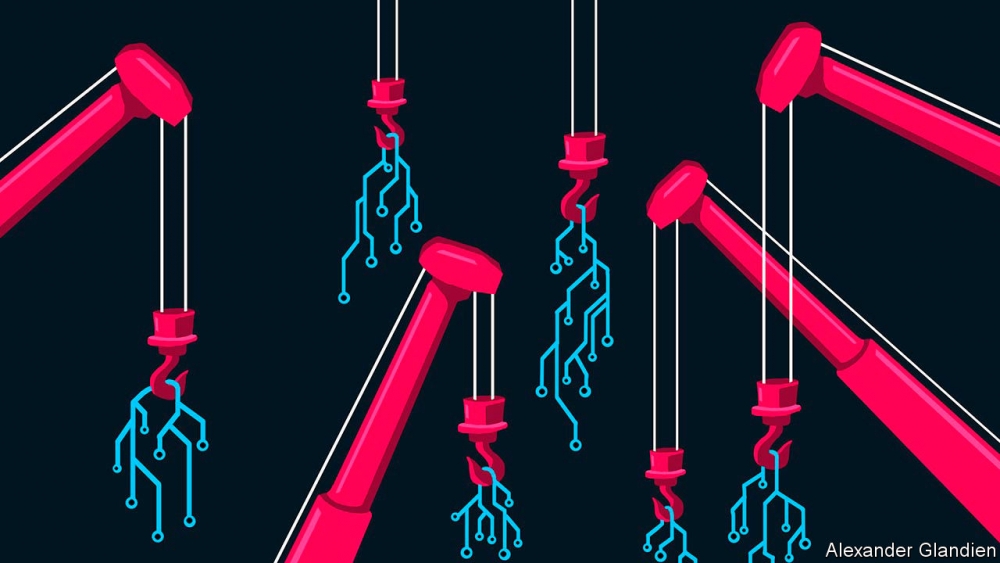 AS A TEENAGER, Wang Hanyang was fascinated by the electronics markets of Zhongguancun. He wandered the aisles of hard drives and graphics cards like a kid in a zoo, asking questions and learning. By 2009, government attempts to foster a tech hub in Mr Wang's patch of Beijing had yielded little else to inspire a 14-year-old's imagination. There were a few successful Chinese tech firms mimicking their American counterparts in search and social media, along with other startups. But in general Zhongguancun, a byword for cheap knock-offs, was still a disappointment.
No longer. Today Mr Wang, 25, is at the helm of his second startup, Generalized Aviation, which creates software for drones. Trendy coffee chains and boutique supermarkets dot the streets. Zhongguancun has spread out from the electronics markets into a sweeping quadrant of northwestern Beijing that takes in its two leading universities, Peking and Tsinghua. Zhongguancun is now a concept as much as a place, China's "Silicon Valley".
It is also China's best hope for the domestic innovation that might insulate the country from a world perturbed by its rise. The government calls this "self-dependent innovation", an idea that the trade war with America has given urgency. In January, during a visit to the new Binhai-Zhongguancun Science and Technology Park (conceptually part of Zhongguancun, but geographically distinct), Xi Jinping, China's leader, emphasised the need for Zhongguancun to generate "high-quality" economic development. As Mr Wang puts it, the country must accelerate a shift from assembling tech products to creating them. Surrounded by the world's largest, fastest-growing market for such goods, Zhongguancun is creating new apps, services and devices more speedily and cleverly than ever before.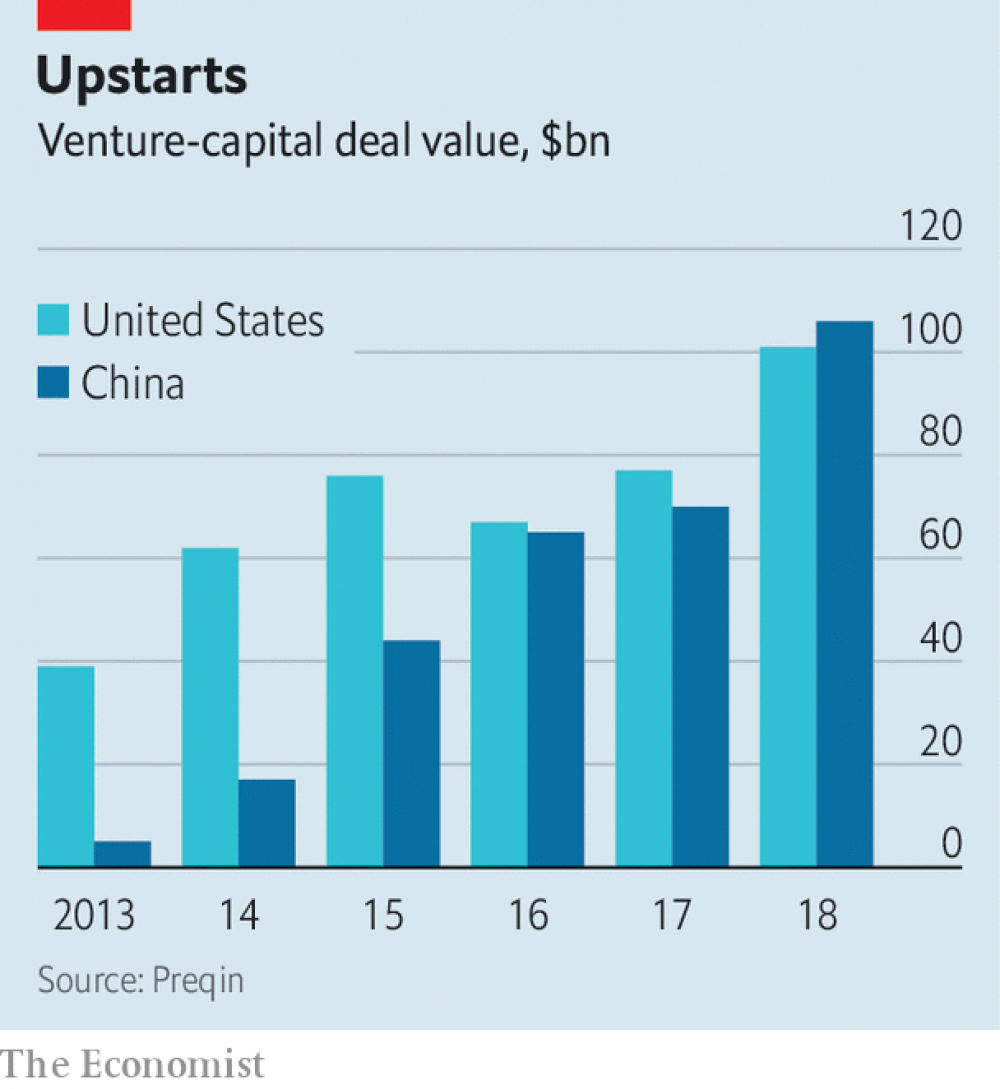 The ingredients for success are in place, though it is hardly assured. The amount of money pouring into Chinese technology companies has grown rapidly over the past ten years (see chart), with the total annual levels of venture-capital investment now reaching parity with America. Armed with capital, a new company can stake out office space easily and quickly, and tap into annually refreshed stocks of technically minded graduates from the most prestigious universities in Beijing.
China has long since moved beyond producing merely Chinese versions of Silicon Valley companies. WeChat, an all-encompassing chat and payment app introduced in 2011 by Tencent, an internet giant in the southern city of Shenzhen, has inspired copycattery from Facebook. The newest firms in Zhongguancun employ business models that do not exist yet in America. One company lets doctors in small family practices order up complex lab tests for their patients on their phone. Another sells robotic arms to knife factories, which use them to sharpen the blades automatically. The international popularity of TikTok, a video-sharing app made by Bytedance, a Beijing company, shows that even in areas where Silicon Valley dominates globally, like social media, Zhongguancun can compete.
Its young companies start not in garages, but in cramped offices, tucked away in the low-rise towers that host what is left of the electronics market, the heart of old Zhongguancun. Mr Wang points out the dingy nook in which DiDi, China's ride-hailing giant, got its start. A larger office next door is for rent. Some 66 square metres are available, and the landlord is explicitly looking for tenants who "love Apple products". As they grow, startups migrate north, to larger office blocks. Tencent, Baidu, Lenovo and Sina all have sprawling campuses in the more distant reaches of the city.
New companies all rely on one of the most important geographical features of Zhongguancun: its proximity to the best schools in Beijing. The area is home not just to universities like Tsinghua and Peking, but also to highly regarded primary and secondary schools. The headquarters of one of China's most important private education companies, New Oriental, which offers coaching for English-language exams, sits across the road from the electronics markets. Elite Chinese students come here before heading off to America for university.
Often they come back and start a company, as Mr Wang did after he dropped out of the University of Waterloo in Canada. The schools of Zhongguancun predate its tech boom, and are foundational to it. As tech companies grow larger, the universities supply young talent while the promise of good schooling helps lure older recruits with families. The concentration of bright minds, in turn, attracts more brain power. "Beijing has a lot of terrible things like the air or the traffic, but the best thing is that you can talk to the smartest people in China within an hour," says Mr Wang.
Most of those smart people are not working on fundamental technologies, says Zhou Wei, the boss of China Creation Ventures (CCV), an investment firm based in Beijing's Wangjing district. Hawkish officials in America may be kept up at night worrying about China's advancement in semiconductors and artificial intelligence. But Zhongguancun's real strength is in developing new applications and services for the Chinese market, to be provided through smartphones. Chinese consumers are even more primed for such services than their counterparts in the West. In America or Europe, digital services must compete with existing infrastructure. Chinese digital services are often the first of their kind.
They are also heavily in demand. Mr Zhou points to one of CCV's investments, YunHu Health, as an example. The firm offers medical tests for patients at primary-care clinics, eliminating the need to wait in long queues at oversubscribed hospitals. Instead, samples are whisked away to local labs on a moped, with results sent back to the patient and their doctor in a day or two. Just two years old, the company already serves some 100,000 clinics throughout the country.
The application of technology to situations where demand outstrips supply is a guiding investment thesis for Mr Zhou. He has invested in software to help process medical imagery, reducing waiting times at hospitals, and in an interactive educational app that (purportedly) eliminates the need for a human teacher. DingDong Class charges the equivalent of $1 per hour for its automated English lessons, which use recorded videos of human teachers tailored to individual students. (Mr Zhou contrasts DingDong's method of teaching English favourably with his own learning process: watching every episode of "Friends", a situational comedy, at least ten times.)
The Chinese government has adopted a laissez-faire approach to such companies. "If there is no regulation, they let you run," says Mr Zhou. This does mean that new services risk leaving some people behind. "China is moving so fast that companies don't pay much attention to less technical people," Mr Zhou says. It is tricky now, in Beijing, to track down a taxi cab without using the DiDi app on your phone. To pay for a macchiato without using WeChat is to face a barista's exasperation with paper currency, or, at trendier coffee shops in Beijing and Shanghai, outright rejection.
Arms for knives and bras
Where CCV is focusing on technological fixes to gaps in the Chinese markets for education and health, Shunwei, another venture-capital firm, is focused in doing the same for China's manufacturing industry. One of its investments, Rokae, runs its research and development centre out of a warehouse in Zhongguancun. The ground floor is packed with white robot arms with a variety of appendages attached to their wrists. One arm is set up to sharpen knives, plucking raw blades from a box and grinding them to an edge on a stone. Rokae says it has sold hundreds of robots to a large knife factory in Guangdong province, where the arms have directly replaced human workers. Rokae is also teaching its arms to manufacture bras, and says it is working with Adidas to test whether the arms are able to sew the three white stripes of the German firm's logo onto garments. Because Rokae can produce robot arms more cheaply than Western competitors, it can appeal to businesses that might not otherwise have had enough capital to invest in automation.
Shunwei also aims to address Zhongguancun's greatest weakness—a reliance on imported components and technology. The firm has investments in Chinese companies that make chips which manage charging devices wirelessly, or that fuse camera data into three-dimensional scans. It is also investing in companies that design new materials—antibiotic ones for fabrics and mattresses, ceramics for phones. Today, most Chinese companies import these sorts of products from America, Europe, Japan or South Korea. If Zhongguancun is to blossom as a global, not just a regional, tech hub, and if it is to insulate China against protectionism, it will need to nurture its own suppliers.
The local government is doing its bit. Haidian district, where Zhongguancun is located, recently opened a business park dedicated to fostering Chinese chip companies. The idea behind Zhongguancun IC Park (the IC stands for integrated circuit), according to Wu Chunyan, one of the park's sales team, is that it will smooth the way for new chip companies, and not just through subsidised rents. It offers software for designing circuits, and handles licensing negotiations on behalf of its young tenants with other chip architecture firms such as Arm. Bitmain, a Chinese company which makes chips for mining Bitcoin, and GigaDevice, which makes memory chips, have already committed to moving in. Even though the campus seems quiet and somewhat empty, the canteen is bustling.
The latest crop of startups have set their sights on foreign markets. Rokae is planning to sell its robot arms to Europe. Mr Wang wants Generalized Aviation to flourish globally. They see the trade war not as a threat, but as an opportunity—to fill the gaps in Chinese supply chains and then compete in the West. But to become a world-shaping force like Silicon Valley, Zhongguancun will have to overcome Western concerns about the potential misuses of Chinese technology. So far, very few Chinese tech companies have managed to go global, Huawei and Bytedance being the most prominent. And Huawei, in particular, is under threat due to security fears raised by Western governments.
In the meantime, even Mr Wang cannot keep up with the pace of change in Zhongguancun. As he rides an escalator up into the last remnants of the electronics market, he sees that an entire floor has been emptied. He exclaims: "Oh no, they closed this one down?" The spaces which inspired him to go into the tech business are fading into history. "I feel a bit upset, but it's ok," he says. "Everything goes forward. We live life forwards, not in the past."
This article appeared in the China section of the print edition under the headline "Home-grown"
中國中央電視台的CCTV10在去年年底,曾播出一系列「《中关村》| 看曾经的电子一条街如何成为"中国硅谷"【全6集】」的報導
網址是:https://www.youtube.com/playlist?list=PLwXMmy5fUrVw6yHztGr74yCNOuM6JCJee
有關中關村發展的研究與回顧,最完整的調查是北京大學出版社的「中關村模式:科技+資本雙引擎驅動(ISBN 9787301288351)尹衛東,董小英,胡燕妮,郭偉瓊合著:中關村科技園區是我國國家自主創新示范區。在黨中央號召重點發展的互聯網、大數據、人工智能、綠色低碳、現代供應鏈、高端服務等領域孕育了一大批世界級領先企業。它們依靠科技創新從無到有,借助資本市場從小到大。可以說,中關村是新經濟的先進代表,是創新與資本雙擎驅動的先行者。中關村的貢獻不是孵化了多少優秀企業,而是形成了「弘揚企業家精神,倡導創新文化,瞄准國際前沿,全方位服務創新創業」的原創經濟發展模式。該模式對於我國順利完成經濟社會發展新舊動能的轉換,開啟全面建設社會主義現代化國家新征程具有重要意義。」
另筆者對中關村印象是現任黑龍江省委書記陸昊的總策畫奠基,而能延續深圳和東莞的科技實力,有新一波的生氣。筆者在2015年11月23日,曾在經濟學者雜誌的討論區留一篇陸昊和當時的中共黨政權力結構:
The north star
Nov 23rd 2015, 17:20
Lu Hao is the last one exalted to the younger coterie of Chinese top officials, referred to as the CCP's 6th-generation leadership. Among the top-ranked aside from the present 7 in Politburo's standing committee (PSC) is Hu Chun-hua, now party's secretary in Guangdong, Sun Zheng-cai in Chongqing, Chen Min-er in Guizhou since July 2015. Hu was the chief of Youth League (YL) in 2006-08, after Li Ke-qiang (1993-98), now Premier, Zhou Qiang (1998-2006), now chief of Supreme People's Court, and then Lu is Hu's successor (2008-13). Chen has been one of now President Xi Jin-ping's henchmen of princeling party (PP) during career from Zhejiang, who rises through the ranks to the Politburo of surmise.
In Nov. 2012, inaugurally asked for whether to perceive the idea of promotion in public by Taiwan's EBS reporters, Hu and Zhou within the rarely putative striking distance of PSC in a decade replied nothing about it but enunciated the duty's political grade and orientation both used the metaphor of Hunan's demure brocades to describe. In fact, Hu's paradigm in Inner Mongolia those years were rather softened and kind whose capability was mistaken for connivance. Moreover, his career meets a conundrum that Xi dislikes YL, especially Hu Jiang Ze-min and Hu Jing-tao pick up for the perceivable successor.
After the 4-squad cases of anti-corruption, around Zhou Yong-kang, the periphrasis of factions' vicissitudes appears at a year before the 19th Party Congress. Both major factions, YL and PP, felt estranged from each other. The composition of party's presence depends on Jiang's pedigree and YL, but Xi seems to draft Chen, a substitute for YL's Hu, and the faction's senior into the squad for the next generation who is predisposed to one-party system bubbling. Nevertheless, it is evaluated that YL still dominate the 19th PSC. Besides Xi and Li, by my divination, there are 2 types of candidates: the 2nd term: Zhang De-jian, Meng Jian-zhu, the first-time: Wang Yang, now vice premier, Han Zhen, now party's chief in Shanghai where Han works over 15 years, as well as Hu and Sun, Li Zhan-shu, the director of general office of CCP and Wang Hu-ning, an intelligentsia of policy's development.
http://www.backchina.com/blog/340151/article-221234.htm
The 1970s officials are characterized as the one that was cultivated in academy and trained in the market economy since 1990s. In general, the economic policy's articulation determines China's decades-long developmental trail. Thus, Lu Hao who followed Professor Li Yi-ning, also Vice President Li Yuan-chao and Premier Li's teacher, in Peking University (PU) for master degree was attentive to party's need of finance policy which appealed to the People's Bank of China involving state-owned enterprises (SOE) I/O and debit balance.
Compared to Xi's recalcitrant background, these 40s youth leader in CCP almost own the profile of school's active leader. Lu born in Xi'an was a volleyball team leader at high school. Lu studied in PU where he was the chief of student Union first elected by general election. He is famous for developing a suite of disco dancing in the union's game.
Lu started to work at a SOE about textile industry assisting in the recovery of factory's business at age of 27 after he graduated and 10 years on he was promoted to Beijing's little cabinet who supervised the inception of Zhongguncun's industrial upgrading, vicinity of Beijing where now owns the scale of IT second to Shenzhen domestically.
Since May 2008, Lu succeeded Hu as the YL's secretary and in 2012 he was listed in the 18th central committee. When PP holds party's core since a decade ago, YL was pressured to cede the right of nominee and in Xi's first term many scandal comes from YL membership's malfeasance. In CCP where formalism prevailed in China's overlapped society, Xi's intensive personnel arrangement pushes the party over precipice. PP's newly-rising officials of provincial and Council's level are hard to compare with the level of rest that was mostly promoted by Xi's both predecessor Jiang and Hu. The competition complicit in the political struggle is yet to calm down. Although Xi gets closer to Wang Hu-ning whose idea envisages democratization inside party, Xi never decentralizes the power and the political performance is far less than that in Jiang and Hu except for anti-corruption.
Lu is recently given caveat of countenancing some absorption from foreign writings which is exasperation in term of Marxism. Lu has inquired about the case of a NTD's program producer jailed in Beijing from my request throughout Taiwan's entertainer Peng Chia-chia and Xiao Wen-ge, DMG President who bought out EBS last week. Working in Heilongjiang for 5 years, he helps tourism wherein achieve the 3rd-largest provincial scale of tour industry now, who and Hu exchange industry's view for economy and his political tactics since his term's debut. The portent of YL's misfortune these years however affects Lu's near future.
Recommended
4
Report
Permalink
reply