保加利亞第一次接觸最終章
2007/06/01 00:32:02瀏覽3269|回應11|推薦25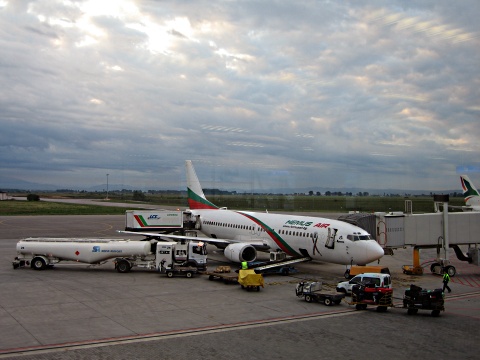 You may appreciate the very first of experiences explored in life, and you may not.
A bunch of travelers queued to pass through security check at Sofia airport of Bulgaria. The queue seemed to hold still, since those officers did the best of their single duty—check everyone up, from head to toe, no matter whoever you are. I've never been asked to take off my belt before (which is sometimes fitted with a metal buckle). Having put my notebook pc in the tray, I thought I should be all right as usual. The alarm however unexpectedly went off when walking through the scanner. Here comes a drama.
Two male officers came up and I was escorted to a small room right next to the checkpoint. It seemed that there was a spotlight showered on me, which drew the attention of the crowd in the hall. Alas, I used to watch this very often during security check, but this time is my turn to take a part in it.
In the small room, I was ordered to take off my shoes and empty all pockets, and then I just realized that I was put in custody while one of the officers took away the basket with my belongings in it and another locked the door and blocked the doorway. Great! I had never been treated like that at the airport. The clock was ticking and those two minutes were the longest I'd ever had.
Looking back to my life, I very often tried to be different. For example, I didn't go to the States to study as the most of my university classmates did. Instead, I went to the UK. However, it is NOT wise to play different or unique at the airport. I then tried to be normal and acted like anyone else, but unfortunately they made me special. Well, it's not a big deal. Just a check. Quite. The point is that I was the only one put in custody (well, virtually a lock-up, if I'd like to exaggerate it). The other passengers were simply checked up individually by hands of officers or a hand scanner when the alarm went off. Huh, I should be grateful, shouldn't I? I was a VIP (Very Innocent Person???) and I deserved an intensive care. Code red is what I had. Not bad, eh?
Eventually the longest moment was ended by a click when the officer came back with my personal effects. I didn't see any message in their face showing they were content. In return, I gave them a reluctant but funny smile. I've got to confess that I made a face, an awkward face rather than a smile to mock one of the first experiences encountered in my first trip to Bulgaria.
6:31 AM (11:31 AM, Taiwan), 30 MAY 2007
Gate B7, Terminal 2
Sofia airport, BULGARIA

P.S. Bulgaria Air is a materpiece of "Beauty and the Beast": gorgeous eye-catching model-level cabin crew on an aged poor-equipped Boeing 737 flight. By the way, you wouldn't like to visit the toilet...
( 休閒生活|旅人手札 )