Pen Hold
2009/02/16 08:12:30瀏覽499|回應0|推薦1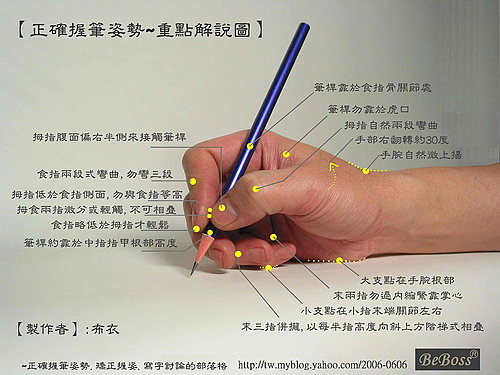 People often judge a book by its cover,
judge a person by his/her writing.
Moreover,
it is believed that everyone's handwriting shows their
personality.
Although modern people often uses computer to type data,
when it comes to filling a form or signing a contract,
hand-written form is inevitable.
There is no way to escape.

Needless to say,
writing is a fundamental skill.
However,
I am not good at handwriting.
My handwriting is really terrible.
It is certain that
my bad writing partly affects what peole think of me.
It's utterly annoying.
I used to hold my pen incorrectly.
Plus,
I feel uncomfortable due to my way of holding pen.
My muscles are too tight,
it causes my movement slowly.
Hence holding a pen in a correct way really matters.
Different position of the hand forms different type of writing.


Eventually,
I picked up how to hold a pen lately.
After browsing the useful website a year ago,
I had tried to realize the information and make it.
During a long period of time,
I failed.
In a long run,
I picked up how to hold a pen lately.
This time I made marks on my finger to remind me of
the correct way.
By doing so,
my muscles moved more freely when relaxed.

In addition,
I am so appreciated to the website.
There are a lot of helpful questions and answers about
handwriting.
I am so glad I found it.

All in all,
I've made up my mind to work it out this time.
Never ever ever ever ever ever give up.

Useful information about handwriting comes from
http://tw.myblog.yahoo.com/2006-0606/article?mid=1347&prev=1398&next=1158&l=f&fid=9
( 知識學習|其他 )