The Cartier International Dubai Polo Challenge 2009
2009/03/26 05:43:08瀏覽722|回應0|推薦15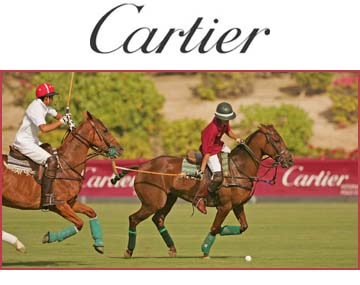 The Cartier International Dubai Polo Challenge 2009 and the opening of Cartier largest boutique in the Middle East
On Thursday March 26th, 2009 Cartier will officially inaugurate its largest boutique in the Middle East in the prominent and lavish Dubai Mall. This outstanding boutique occupies a space of more than 700 m2 and is ranked among the top 5 largest flag-ship boutiques in the world. Guests are invited to a champagne and petits fours reception at the Cartier boutique, followed by a sumptuous dinner by 3 star Michelin Chef, Pierre Gaignaire and a magical spectacle of Red Box theatres, inspired by the World of Cartier. Stunning Hollywood actress and Cartier's ambassadress, Monica Bellucci was present at this glamorous event.

Among Cartier's guest list were Royalties, Celebrities and VIPs travelling from Europe, the Middle East and India. From Bollywood Actor and Slumdog Millionaire star Anil Kapoor & Bollywood actress and model Karishma Kapoor amongst many more...

The Cartier International Dubai Polo Challenge is set to take took place on Friday, March 27th, 2009 at the Desert Palm hotel Under the patronage and attendance of HRH Princess Haya Bint Al Hussein, Wife of HH Sheikh Mohammed Bin Rashid Al Maktoum, Vice-President and Prime Minister of UAE Ruler of Dubai - the year's most prestigious and celebrated polo tournament in the desert!

Each year Cartier hosts three dazzling tournaments: a traditional, royal Cartier International Windsor Polo Cup, a more daring Saint-Moritz Snow Polo event and the exceptional Desert Polo match in Dubai, which push the boundaries of this elite and royal sport even further, extending it to all terrains and styles. Thanks to Cartier's initiative, the challenge of organizing this sport, whether on an icy pitch in Switzerland or in the heart of desert in the Middle East, has become a reality.
Reported by DLK News Agency (Sir Lancelot Khan)
Photos : image.net
( 休閒生活|影視戲劇 )